Excellence in Education 2014
The Creativity – Innovation Challenge
Co-Chair
ICIE Director, Co-Chair
---
Co-Organizers
---
Welcome to the 11th ICIE International Conference
Sandra K. Linke, Ph.D.
ICIE Director, Co-Chair
The International Centre for Innovation in Education (ICIE) is committed to the development of all learners as productive world citizens and leaders for the future. This International Conference will provide a conference programme with the highest calibre of: Nobel Prize winners, keynote speakers, invited speakers, and a large number of scholars and presenters alongside a selection of exhibitors. This conference, in Paris - France (July 7-10, 2014), is another milestone in the journey towards leadership, creativity and innovation.
Conference Aims and Objectives:
Encourage volunteer spirit; Promote excellence and sustain quality; Connecting Communities; Strive for improvement; Evolve responsibly; Meet community expectations of quality; Sustain competitiveness and viability; and Balance innovation with core essentials.
This conference provides you with the opportunity to:
Explore the latest developments in education in general, and innovation in education in particular;
Examine the need for sustainable educational systems;
Integrate the latest technology into the education system;
Debate the future of education: What are the challenges ahead?
Learn from innovative case studies where educational institutions have taken the initiative;
Engage in a series of seminars designed to debate the theory and practice of real improvement in education; and
Participate in pre-conference workshops designed to develop participants' competencies.
Categories:
The Conference presentations will evolve around four main themes:
---
Under the main four themes of the conference, a number of sub-categories could be listed, including:
Advances in Creativity and Innovation

;

Latest developments in innovation in education

;


Education for Peace

;

Gifted Education

:

models of excellence in education;

Innovative Learning Environment

:

standards and curricula, tasks and materials, and communication;

Instructors and Teacher

:

competencies, innovative teaching methods, and staff development;

Learner

:

competencies, individual differences, intervention and development;

Programme Development

:

examples, planning models and components, implementation and evaluation;

Integrated Services

:

guidance and counselling, community services, and mentorship;and

Future Trends

:

globalisation and networking, civic education, and building creative climates.



We encourage anyone with an interest in: innovation in education, excellence in education, and gifted education to attend this conference. The participants will include: university academics, educational psychologists, education policy advisers and managers, business and industry leaders, gifted and talented program coordinators, school heads, graduate students, parents and caretakers.
Registration Fees for International Participants: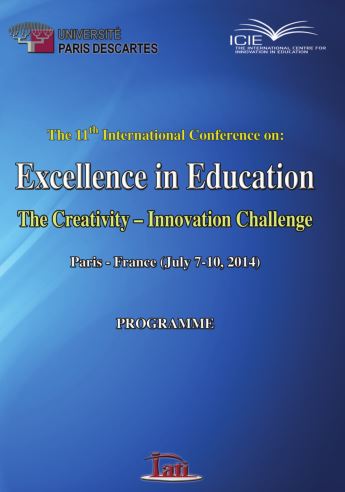 Early Registration Fees: €350 (June 15, 2014).

Late Registration Fees: €400 (June 30, 2014).

Onsite Registration: €450.

Post-Conference Workshop: €50.
If you have any question, do not hesitate to contact us:
sandra@icieworld.net sandra.linke@icieworld.net
---
Local Registration, Sponsorship, Exhibition, Partnership:
All enquiries about local registration, sponsorships, showcasing your products or services, partnerships and communication in general, please contact
Dr. Beth Dawson,
Head of Communication for the 2014 ICIE Conference in Paris
The European Council for High Ability, the Faculty of Education University of Ljubljana, and the confer­ence organising company MiB are delighted to invite you to the 14th ECHA Conference to be held in Ljublja­na, Slovenia, from 17th to 20th September 2014.
---
The 21st World Conference
The World Council for Gifted and Talented Children (WCGTC)